How A Beekeeper Got His Start
Posted by Scott Veriha on Jan 15th 2020
Scott Veriha has joined us as a guest blogger. He is the owner of Sweet Spot Apiary, Sugar Bush, and Truck Farm. He will be sharing his vast knowledge of beekeeping and homesteading throughout the year and we are super excited to have him sharing with our readers! Please enjoy his contribution below:
The holidays are past and as I look out my window, the world is covered in snow, I am a beekeeper, and this is the story of a year in the bee yard for this apiarist.
I have been a bee keeper for the last seven years, but my fascination with bees started at a very young age. My grandfather kept bees, though my family would not let five-year-old me anywhere near them. This was actually done with good intention as half my family is allergic to honey bees. By second grade I had read every book in the school library on bees, twice! In fourth grade I joined my local 4H group in order to be able to do a beekeeping project with my grandfather. 4H determined that I was too young for the beekeeping project, and that was the last year that my grandfather had bees. At that point my beekeeping ambitions were put on hold. I grew up with no further interaction with bees other than getting stung once in a while messing around with hornets' nests as all young, and teenage, boys seem to do, it is a self-correcting endeavor……. After high school I joined the Navy and spent the next 20 years riding submarines and seeing the world; though my desire to keep my own bees never died, it remained simmering in the background.
I retired from the Navy in 2008 and my adventure in homesteading began. I planted an orchard, laid out a garden plot, and figured out the best place to build my home. In 2012 I came across an article on building your own beehives, and how to manage bees in the hives once they are built. I made a few calls to my county extension agent and low and behold my county had a bee keeping club, I contacted them and found out the I could buy a bee package in the spring of 2013. I talked a buddy into letting me use his garage to build three bee hives, and my dream of keeping bees was a reality!
I started out with a hive style that was different from the conventional style hives that most people are familiar with. The hive style that most people have seen is the Langstroth hive, named after Reverend Langstroth the man who designed that particular hive. The Langstroth hive is composed of interchangeable boxes, with removable frames, and was the first hive to incorporate something called, "Bee Space". I, on the other hand, started out with the Top Bar Hive. The Top Bar Hive, (TBH), is a 2000-year-old design that can be built with hand tools, that is cheap, as it can be built from locally sourced materials. In its simplicity, it is an open topped, feed trough looking, box in which sticks are laid across the top of the box, and the bees build combs off the bars. I also keep bees in Comfort Hives, Square Dadant Hives, and Langstroth Hives. I will talk about the different hive styles in future posts.
I had my hives, I had my bees lined up, I started reading everything I could get my hands on, and started attending the local bee club meetings. Spring could not get here fast enough……………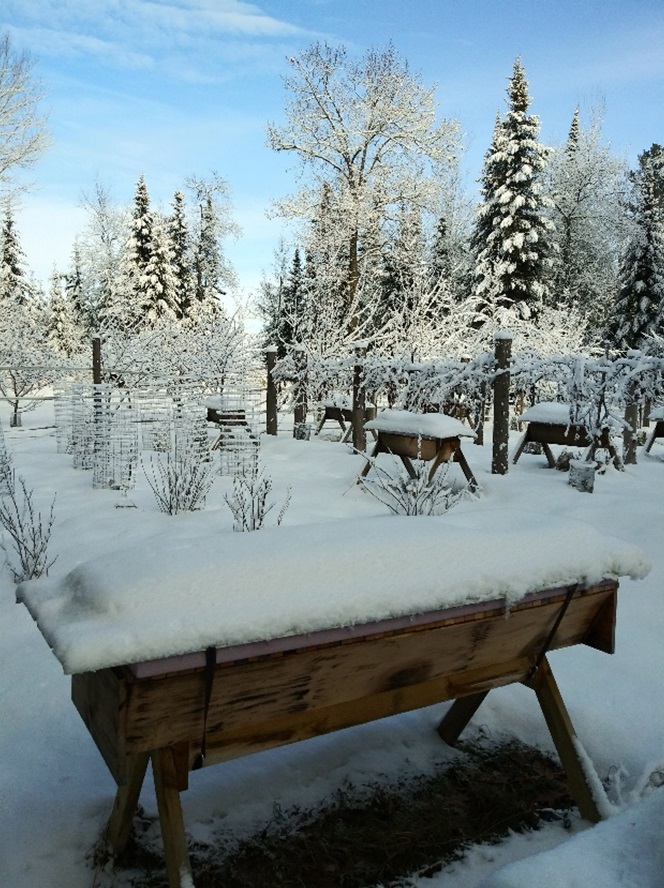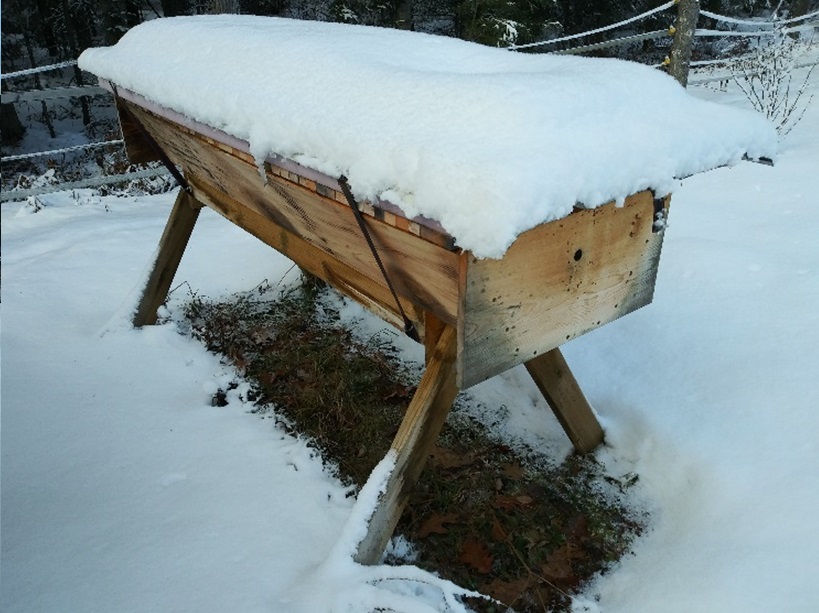 Above Hives; Functional, and Beautiful, in their simplicity!
As I stated above, the winter season is upon us, and while the beekeeping year never ends, or begins, this is a good place to start this tale. Winter is the time to reflect on the good, and the bad, from the previous summer, make plans for the coming spring, and reflect on all that is good in the beekeeping world. Winter is also a good time to attend bee keeping conferences, workshops, and lectures. Winter is also the time to go thru and repair broken equipment, and to build new equipment. So, as you can see, while winter is slower, it is still a busy time.
This winter I am giving a beekeeping lecture at my local bee club in February; attending a Beekeeping conference in Wausau, WI, in March; building four more TBHs and several new hive stands; and I'm working on designing, and building, a pollen trap that will work on my TBHs for next year's pollen collection. Pollen traps allow for the collection of flower pollen as the bees return to the hive. Pollen has several uses in the bee yard, and is also one of those things that are good for you. Come to think of it, most things that come from a beehive are good for you!
Now that you know a little bit about me, and the story of my beekeeping beeginings, and I've teased you with a few of the things that we will talk about throughout the coming year, and hopefully piqued your interest in beekeeping, I will thank you for reading this far, and sign off for now.
Peace, Scott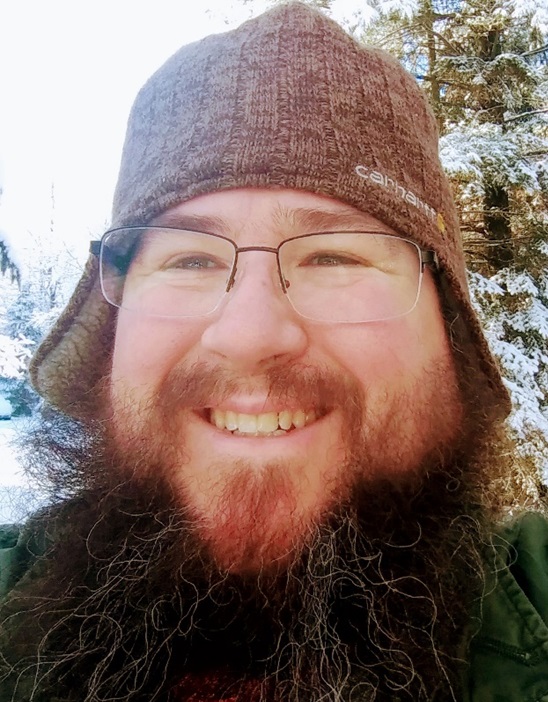 About the Author: Scott Veriha is a retired Navy Submariner, beekeeper, gardener, orchardist, and student of Nature. Scott completed a degree in Environmental Science, in 2014, from the University of Wisconsin Green Bay. Scott is the owner and operator of Sweet Spot Apiary, Sugar Bush, and Truck Farm, a small local business specializing in honey, hive related products, maple syrup, and orchard and garden produce.
Please visit Sweet Spot Apiary and Like their page:
https://www.facebook.com/SweetSpotApiary/